Best 43 Inch Smart TV in India 2020: List of Android and Linux Based OS Smart TV | Top Brands Available in India Under 35,000
Now TVs are not just for watching movies and shows on the set-top-box. Now they are improved and smarter too. New generation smart TVs are loaded with many features such as internet connectivity, streaming service apps, games, and voice-command, so you can simply ask the TV to play the content which you are looking for. If you are looking for a smart TV with a good display and sound quality, then you are in the right place. Check out our list for the best 43 inches Smart TV in India 2020.
These TVs are listed on the basis of the features and specifications of it.
Top 10 – 
43 inch, 
4K
 Smart TVs
Vu 108 cm (43 inches) 4K Ultra HD Smart Android LED TV | With 5-Hotkeys 43UT (Black) (2020 Model)
Details
Resolution: UHD 3840×2160 | Refresh Rate: 60 hertz

Connectivity: 3 HDMI ports to connect set top box, Blue Ray players, gaming console | 2 USB ports to connect hard drives and other USB devices

Sound : 24 Watts output | Dolby Audio | DTS Virtual-X Surround Sound, TruBass HDX, TruSurround X, Dialog Clarity

Smart TV Features : Official Android Pie 9.0 | Google play store | ActiVoice Remote Control | Google Eco-system (Movie, TV, Music, Games) | Google Games | Chromecast Built-In | Bluetooth 5.0

Display : Ultra-edge 4K Display with 40 % Enhanced Brightness | Dolby Vision, HDDR10, HLG | VOD upscaling | Cricket Mode | PC and Game Mode

Additional Features : Robotic Assembly | Bezel less design | Uniform Picture | Long Durability

Additional Features : Licensed Apps-YouTube, Netflix, Prime Video, Hotstar, Google Play Hotkeys on Remote Control | ARC and optical port to connect external sound system
TOSHIBA 108 cm (43 inches) Vidaa OS Series 4K Ultra HD Smart LED TV 43U5050 (Black) (2020 Model) | with Dolby Vision and Atmos
Details
Resolution: 4K Ultra HD (3840×2160) | Refresh Rate: 60 Hertz

Connectivity: 3 HDMI ports to connect set top box, gaming console etc | 2 USB ports to connect hard drives and other USB devices | Bluetooth | Screen Mirroring | Stylish Voice Remote

Sound : 24 Watts Output | Dolby Atmos | (Multi Channel Surround Sound for best sound experience) | Powerful Sound

Smart TV Features: VIDAA OS, Designed specifically for Televisions: Fast, Simple & Easy, Customizable | Built-in Alexa | Voice Remote | App Store | Netflix | Prime Video | Yupp TV | Hungama & more

Display: Dolby Vision HDR | Ultra Dimming | HDR10, HLG | CEVO 4K HDR | Super contrast Booster | 4K Resolution+ Upscaler | Active Motion Resolution+ | Near Bezel-Less, Ultra Slim Design

Warranty: 1 year comprehensive warranty provided by manufacturer from the date of purchase.

Installation & General Query: Installation/Wall mounting/demo will be arranged by Amazon Home Services. For any other information, please contact Amazon customer support | For any other support or query please Toshiba support on [1800 123 960960]

Easy returns: This product is eligible for replacement within 10 days of delivery in case of any product defects, damage or features not matching the description provided
Hisense 108 cm (43 inches) 4K Ultra HD Smart Certified Android LED TV 43A71F (Black) (2020 Model) | with Dolby Vision and Atmos
Details
Resolution: 4K Ultra HD (3840×2160) | Refresh Rate: 60 Hertz

Connectivity: 3 HDMI ports to connect set top box, gaming console etc | 2 USB ports to connect hard drives and other USB devices | Bluetooth | Screen Mirroring | Stylish Voice Remote

Sound : 24 Watts Output | Dolby Atmos | (Multi Channel Surround Sound for best sound experience) | Powerful Sound

Smart TV Features: VIDAA OS, Designed specifically for Televisions: Fast, Simple & Easy, Customizable | Built-in Alexa | Voice Remote | App Store | Netflix | Prime Video | Yupp TV | Hungama & more

Display: Dolby Vision HDR | Ultra Dimming | HDR10, HLG | CEVO 4K HDR | Super contrast Booster | 4K Resolution+ Upscaler | Active Motion Resolution+ | Near Bezel-Less, Ultra Slim Design

Warranty: 1 year comprehensive warranty provided by manufacturer from the date of purchase.

Installation & General Query: Installation/Wall mounting/demo will be arranged by Amazon Home Services. For any other information, please contact Amazon customer support | For any other support or query please Toshiba support on [1800 123 960960]

Easy returns: This product is eligible for replacement within 10 days of delivery in case of any product defects, damage or features not matching the description provided
Mi TV 4X 108 cm (43 Inches) 4K Ultra HD Android LED TV (Black)
Details
Resolution: 4K Ultra HD (3840×2160) | Refresh Rate: 60 hertz

Connectivity: 3 HDMI ports to connect set top box, Blu Ray players gaming console | 2 USB ports to connect hard drives and other USB devices

Sound: 20 Watts Output | Dolby+ DTS-HD. Viewing Angle:178°

Smart TV features : Built-In Wi-Fi | PatchWall | Netflix | Prime Video | Disney+Hotstar and more | Android TV 9.0 | Google Assistant | Data Saver

Display : LED Panel | 4K HDR 10-bit display

Warranty Information: 1 year warranty on product and 1 year extra on Panel

Installation/Wall mounting/demo will be arranged by Amazon Home Services or Xiaomi service partner. For more information, please call Mi support on 1800-103-6286
Easy returns: This product is eligible for replacement within 10 days of delivery in case of any product defects, damage or features not matching the description provided

Country of Origin: India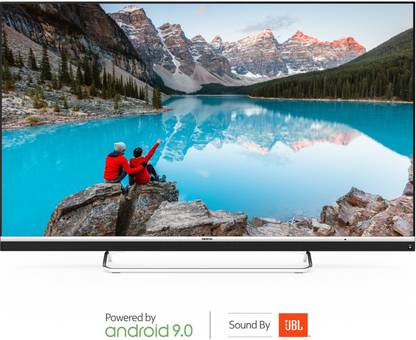 Nokia 108cm (43 inch) Ultra HD (4K) LED Smart Android TV with Sound by JBL  (43CAUHDN)
Details
Supported Apps: Netflix|Prime Video|Disney+Hotstar|Youtube
Operating System: Android (Google Assistant & Chromecast in-built)
Resolution: Ultra HD (4K) 3840 x 2160 Pixels
Sound Output: 24 W
Refresh Rate: 60 Hz
Sanyo 108 cm (43 inches) Kaizen Series 4K Ultra HD Certified Android LED TV XT-43UHD4S (Black) (2020 Model)
Details
Resolution: 4K Ultra HD (3840 x 2160) | Refresh Rate: 60 hertz

Connectivity: 3 HDMI ports to connect set top box, gaming consoles, streaming devices | 2 USB ports to connect hard drives and other USB devices | Headphone Out

Sound: 20 Watts Output | Dolby Audio | Digital Sound Processing | Superior Audio Speakers | Two Way Audio Link

Smart TV Features: Android 9.0 | Bluetooth Remote with Voice Search | Chromecast Built-in | Netlix | Amazon Prime Video | 2 GB RAM + 16 GB Storage | Quad Core CPU + Triple Core GPU

Display: Super Bright Display | HDR10 and HLG | 1.07 Billion Colour display| Micro-Dimming Technology

Warranty Information: 1 year brand warranty provided by Sanyo from date of purchase

Installation: For requesting installation/wall mounting/demo of this product once delivered, please Contact Us On:[ 1800 419 5088 ]and provide product's model name as well as seller's details mentioned on the invoice

Easy returns: This product is eligible for replacement within 10 days of delivery in case of any product defects, damage or features not matching the description provided
Kodak 108 cm (43 Inches) 4K Ultra HD Certified Android LED TV 43UHDX7XPRO (Black) (2020 Model)
Details
Resolution: 4K Ultra HD (3840 x 2160) | Refresh Rate: 60 hertz

Connectivity: 3 HDMI ports to connect set top box, Blu Ray players, gaming console | 2 USB ports to connect hard drives and other USB devices

Sound output: 24 Watts Output

Smart TV Features: Android TV | Voice Search | Google Play | Chromecast | Amazon Prime Video | HDR Gaming

Display : 4K HDR | IPS Panel | Superior Sleek | Slim and stylish design

Warranty Information: 1 year standard manufacturer warranty by Kodak from the date of Purchase

Installation: For requesting installation/wall mounting/demo of this product once delivered, please directly call Kodak support on 1800-103-3036

Easy Returns: This product is eligible for replacement within 10 days of delivery in case of any product defects, damage or features not matching the description provided